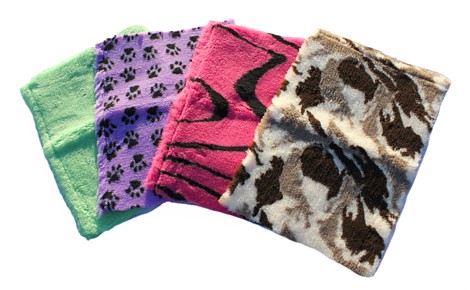 Vetbed's use is only limited by your imagination! Use in whelping boxes, crates, the back of the car, on caravan floors, as a doormat, as a bathmat, in dog trailer bays, puppy pens & trolleys, on lounges….
Anywhere that you need a mat that won't move you can use this wonderful and amazing product!
Vetbed is the most widely used by vets and professionals and has the following benefits:
♥ Tremendous strength and durability whilst retaining luxurious feel. Double cross woven which makes it hard for your pet to rip up ensuring a longer lasting bed.
♥ Vetbed is hygienic due to the way it is produced – interwoven with no ability for any dirt to stay trapped in the fabric thereby producing a clean product after every wash
♥ The higher bulk and superb heat retention distinguishes it from all other dog beds
♥ Easily machine washable without deterioration time after time (please see instructions)
♥ It is hypoallergenic and is suitable for use with all animals and even people who suffer with allergies
♥ It is perfect for whelping and early raising of all animals by keeping them dry and enabling them to get up on their feet quickly
♥ Vetbed drains & dries fast and keeps your pets warm and cosy
♥ It is portable & easy care – use at home, the office, when travelling – anywhere really!
♥ It is suitable for every stage of your Pet's life and is recommended by Vets
♥ The safest and most effective fabric ever developed for professional use
♥ A hard-wearing, everyday bed
♥ Suitable for all life stages
♥ Excellent drainage properties
♥ Please note that postage is charged after you have paid for your order, as it depends on your order combination and the destination.
Please note that vetbed is a synthetic product and therefore flammable (will melt).
Washing Instructions
VetBed is machine washable, hand washable or hose it down at any temperature though cold / warm are recommended. For top loading machines put the fluff side against the agitator to maitain life.
It is best to air dry naturally though it can be tumble dried for a very short time at a low temperature, though this will reduce the life of the backing of the non slip.
Do not leave out in the sun for days as this will reduce the life of the backing as it will cook it.
Do not wash with softener as this will coat the fibres and prevent it from wicking moisture away
Do not wash in Woolmix or liquid detergents- eucalyptus will break down the latex in the backing both on the Non Slip and the Greenback, liquid detergents may give off a chemical smell after washing.
If you want to brush the product use a soft slicker only, other brushes may harm the integrity of the woven fabric
Store in a dry area not a moisture area such as a laundry to lengthen life