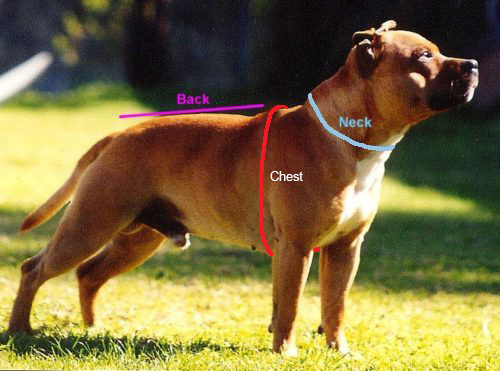 How to measure your dog

The Back Length is measured along the top of the spine from the withers (the top of the shoulder blades), where the neck joins the body, to the base of the tail where the tail joins the body.
The Chest measurement is taken all the way around the biggest part of your dog's ribcage, generally just behind the withers down and around just behind the front legs and back up the other side to starting point.
The Neckline is measured at the place where your dog's collar would naturally rest, this measurement is also taken all the way around.
Things you'll need:
A flexible measuring tool. A seamstress' tape measure is best, but if you don't have one you can use a ribbon or a piece of string and then measure it against a ruler to get your measurement.

A flat surface for the dog to stand on.

A piece of paper and something to write with.

A helper, especially helpful if your dog is a squirmer, or to keep your little one from jumping off the tabletop while you write down the measurements.

… and finally the all important thing your dog.
Note: Please let me know what breed (or cross) you have & whether it is a boy / girl in the message box as this helps me ensure the fit is right around the chest and the undercut is right for the boys.